Female Hormone Support
Female Hormone Support. Nicole Ferguson is a naturopath with a keen interest in supporting females improve their hormone health.   
Nicole helps females with:  
PCOS
Endometriosis
Adenomyosis
Fibroids
Dysfunctional Menstrual bleeding
PMS
UTI
Fertility
Infertility
Recurrent miscarriage
Pregnancy – all trimesters
Post Partum
Menopause, all phases
Thyroid Disorders
Adrenal Disorders
Nicole has had first-hand experience with PCOS, hormone disruption, baby loss and finally 2 successful pregnancies where she is now a mother to 2 beautiful boys, Bodhi and Sonny.   Nicole used natural therapies to work with all of her hormonal issues therefore, knows the power that can lay before you when using natural therapies correctly.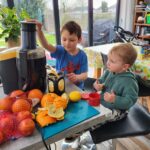 Nicole will sit down with you and discuss your current situation and help map out a treatment plan.  If you have had any recent testing or scans please bring these results with you, so we can identify any sub-optimal readings and help point you in the right direction to what can be done.
You may be asked to undergo further private testing to try get to the cause of what is happening.  This can include:
Full hormone profile
DUTCH test
Fertility profile
Full thyroid screening
Full adrenal profile
Comprehensive GUT profile
Food intolerance
Gluten sensitivities
Hair mineral testing for mineral imbalances and heavy metal toxicity
MTHFR – genetics
The labs most commonly used are: Regenerus labs – DUTCH test, Genova, Invivo clinical, Cyrex, Mineral Check, Biolab
Initial consultation up to 1.5 hour £145.  Testing is additional on top
Follow up sessions up to 1 hour £60
Skype / Zoom consultations are also available
Nicole supports the charity SANDS a charity are very dear to her heart
---
Related Therapists
---